So it's been a while.  There is a lot to write about as I sort through a few months worth of pictures. Luckily I know where to start.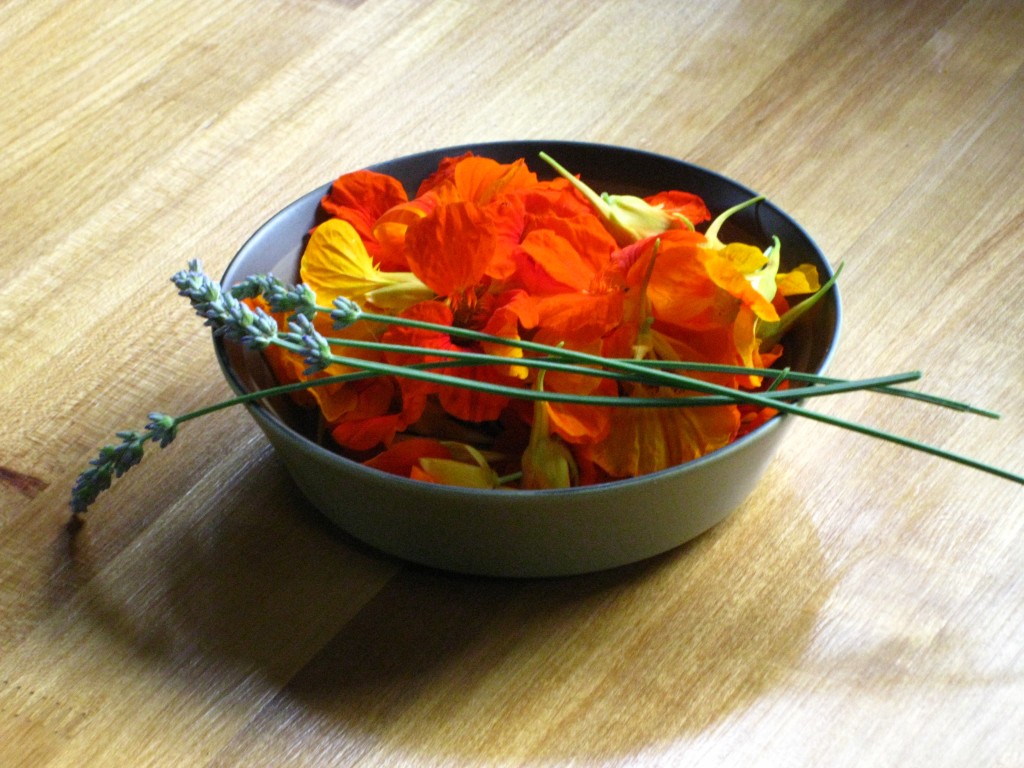 After we gorged ourselves on many burritos, enchiladas, tamales, etc, we realized that we were broke, and couldn't continue the HOORAY WE ARE IN CALIFORNIA Mexican food indulgence any longer, so we had our first home meal.  We missed the farmers market for several weeks in a row, but were able to supplement nicely from Shoppers Corner (which we love!) and my aunt's garden.  Her vegetables had only recently been planted, but her lavender was going crazy and her nasturtiums had taken over wildly in her compost heap.
I also found $19 Frantoia Olive Oil which made me so excited I even sent people messages about it.
I was originally thinking of making a pesto, but my aunt didn't have a blender, and I was too lazy to use a mortar and pestle, so I went for using the lavender to make an infusion in the oil before cooking the vegetables, and then chopped the nasturtiums and added them at the end for color and a peppery taste.  I also made some potatoes, my favorite way, just slow cooked with olive oil, pepper, and salt.  We found some small fingerlings that were just right.  Here are some pictures of the process.
After cooking them on the stove for a little bit, I tossed them in the oven at 375F until the dinner was ready.