Several times this year I've expected to come across a fig tree loaded with fruit ready for picking and preserving, but each time I've been met with an almost bare tree or painfully under-ripe fruit, and come away with just a few handfuls.  This is a serious problem for me, because I have a deep and unending love for fresh figs and the many things you can do with them.  There is no other jam I love more than fig jam (quince paste is a paste not a jam, so I feel okay saying this…), and there is no fruit I would rather have fresh than figs.  When you get the perfect, gooey, slightly firm fig… there is just nothing like it.  So when I have only a handful, I end up hoarding them, foolishly and indecisively, until one day I open the refrigerator and they are dried out, lonely, and about to mold.  This week I got a handful of green figs from my grandmother's tree and determined not to let this happen.  After reading Edward Schneider's article about the Tarte Tartin, I couldn't get the idea of caramelized figs out of my mind.  Then I saw Nate's post about the Boy Bait Cake, and suddenly it just all came together: Fig Upside Down (or Skillet) Cake.  I have never made an upside down cake until today, and as I've mentioned before I'm really not a baker, but I love my iron skillet and I was determined to caramelize these figs, so I went for it. The result was unparalleled, delicious, and one more thing to add to my "things I love to do with figs" list.
Fig Skillet Cake
(Adapted from the Joy of Cooking Skillet Cake)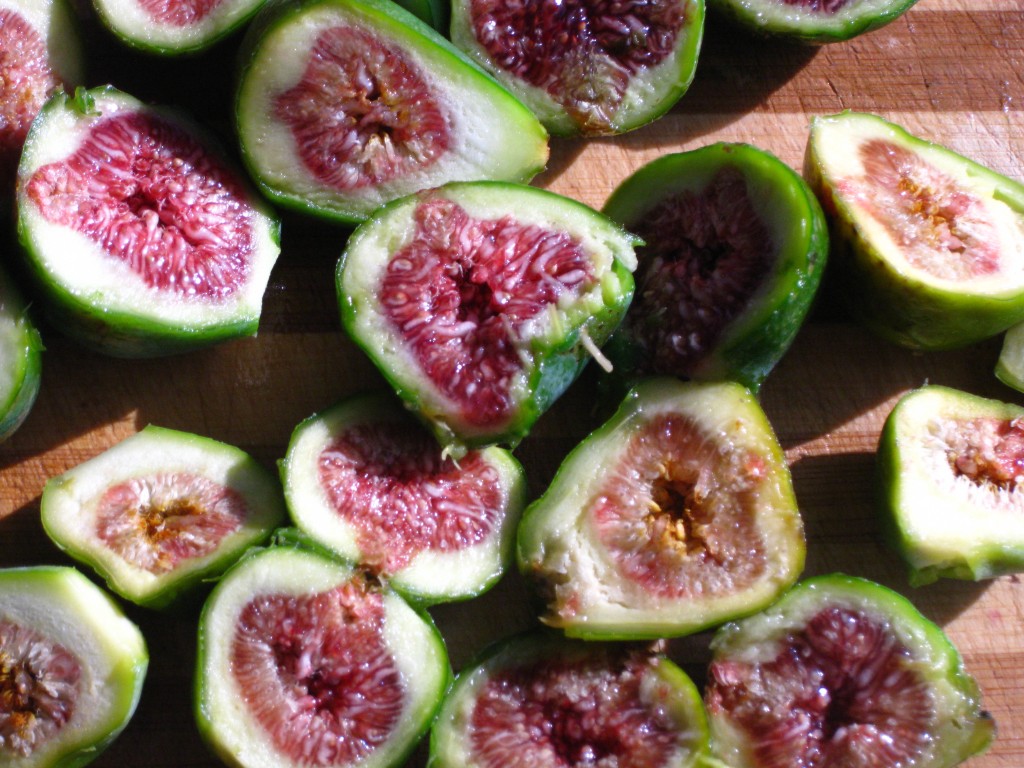 The basic process is to create a syrup for the figs to sit in then pour a batter on top and bake.  The syrup cooks the figs until they candy, and caramelizes as it cools after you remove it from the pan. This results in a delicious, moist cake with a slightly chewy and very figgy top.  This adaptation includes some of my favorite fig compliments, plus sea salt (I love salt in a caramel!) and a little extra instruction in places where the anti-baker in me needed them.  I found this recipe especially fun because you get to use a lot of bowls- a set of 4 nesting bowels is perfect.
Ingredients:
basket or handful of figs
1/2 cup butter
1/2 cup dark brown or muscovado sugar
1 cup white sugar
4 eggs
1 orange
pinch sea salt
1/2 vanilla bean
1 cup all purpose or cake flour
1 teaspoon double-acting baking powder
Equipment: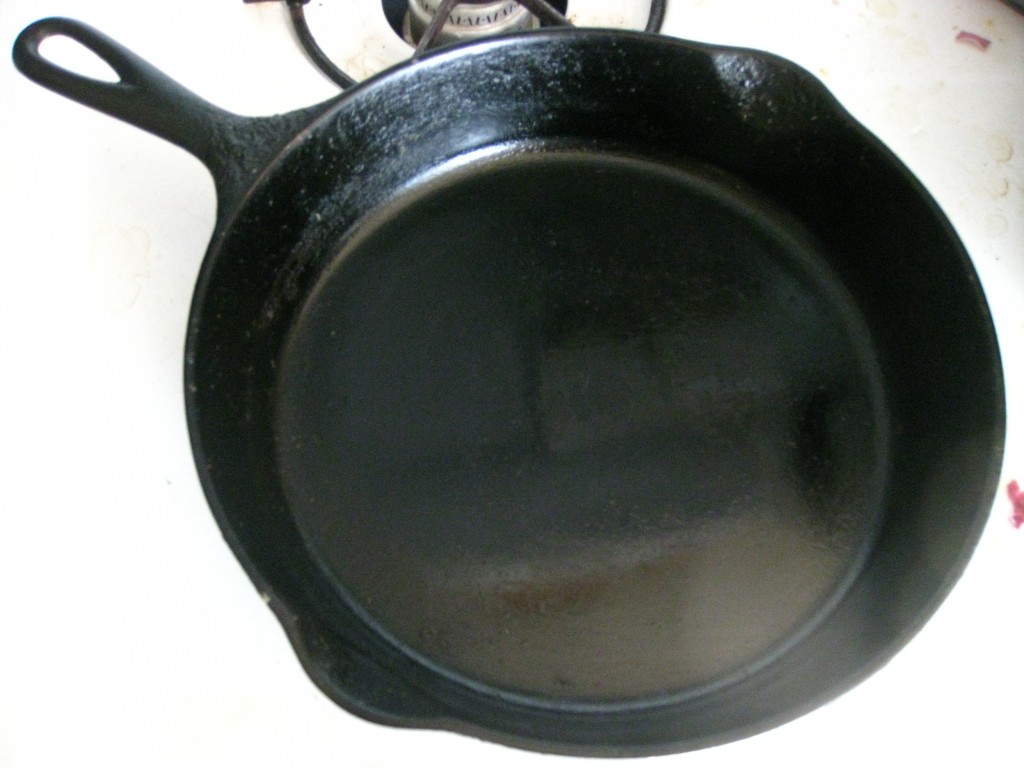 9-10 inch iron skillet
egg beaters
heat proof or durable plate
set of nesting bowls (or 4 bowls)
Method
preheat the oven to 350 F
melt the butter in the iron skillet and set 1 tablespoon aside for later
zest the orange and set aside
juice the orange into the iron skillet and add 1/2 cup of dark brown sugar and a pinch of sea salt (a pinch is less than a 1/8th of a teaspoon, just sprinkle a little in the pan).  Heat on low until the sugar is well dissolved.
remove the tough tips and cut the figs in half. Place them flat side down in the skillet with the narrow tips pointing inward.  If you don't have an abundance of figs, start on opposite sides until you can see how it will fill out the pan.  If you have enough, you can place a second ring on the inside, but they might move around as you pour in the batter later.
take the largest and smallest bowl, separate the egg whites into the largest, and the yolks into the smallest.
add the zest and reserved butter, and the seeds from 1/2 a vanilla bean to the yolks by cutting the bean in half length from tip to tip and scrapping them out with the dull side of a knife.  Lightly beat the yolks until the vanilla is well distributed and set aside
in the smaller of the two medium bowls sift one cup of sugar, in the larger sift 1 cup of flour and 1 teaspoon of double-acting baking powder
beat the egg whites until stiff, but not dry.  This means you want to see peaks beginning to form, but smaller rounded peaks instead of stiff, tall thin peaks.  "Peaks" are what form when you turn off the beaters and lift them out of the egg whites.
now you will fold in the rest of the ingredients into the egg whites one at a time.  Folding basically means you are very very gently and slowly adding something to something else, usually the something else has air beat into it that you are trying not to deflate.  So as you do this, try your best to be patient, and gentle.  Pay less attention to how even it is, and more attention to how careful you can be.  By the time you get to the flour it will be more batter like and less fragile, so you will be able to stir it a little more thoroughly at the end.
fold in the sugar 1 Tablespoon at a time by sprinkling it over the egg whites and gently turning it over on itself.
next fold in the egg yolks
last, fold in the flour, still being as gentle as possible, but making sure everything is well distributed
pour the batter over the fruit slowly and evenly so you don't disturb the way you laid them out earlier
place the skillet in the oven for about 30 minutes, or until the top is slightly browned and the center springs back when touched gently.  I got a little nervous as this was making because I could smell the sugars caramelizing.  When I checked on it, there was a lot of chaos going on around the edges of the skillet, but that seems to be perfectly normal. Don't fret! It will all look lovely at the end.
immediate remove from the oven and flip it over onto a plate- to do this, use oven mitts and place the plate on top of the skillet, holding it together, then flip it over and set it down.  Let the skillet rest for a couple minutes before removing it to help coat the cake.  Remove the pan and serve!