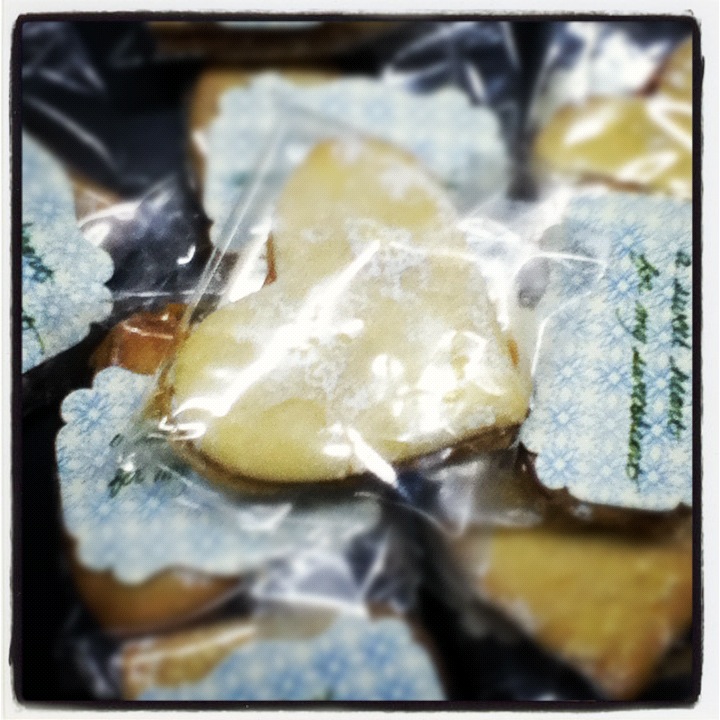 As some of you may know by now I recently started writing for a local bakery called The Buttery. My first article for their new blog was called "Sweet Hearts For Your Sweetheart", and with Valentine's day rapidly approaching I sort of inspired myself. I've been wanting to make Alfajores, a South American cookie sandwich with dulce de leche, but hadn't quite gotten around to it, so I figured what better time then now! I happen to have a ton of bags laying around, and the decorative tags from art show invitations and a bag of Meyer Lemons from a co-worker, so it all came together amazingly well and very last minute.
INGREDIENTS (Makes 20-30):
1 can of sweetened condensed milk
2 cups of flour
1 cup (2 sticks) unsalted butter (room temperature)
1/2 cup of powdered sugar + more for dusting*
zest of 1 lemon (meyer or otherwise)
1/2 teaspoon coarse sea salt*
NOTA BENE: The coarse sea salt is especially important as it creates salt pockets in the cookie that off set the sweetness of the dulce de leche. DO NOT BUY THE FANCY ORGANIC POWDERED SUGAR IN THE WEIRD PLASTIC BAG! It is awful! it sticks and forms hard rocks. I had to put mine through the blender because it was too sticky to even sift, then, by the time I went to powder my cookies it was clumping again! Terrible stuff.

METHOD:
remove the label (if paper) from the can of sweetened condensed milk and place it in pot large enough to cover it with 1 inch of water
bring to a boil for a minimum of 1 1/2 hours (maximum of 3 for a much darker caramel) checking periodically to make sure it is still covered with water
meanwhile…
cream the butter and sugar together (about 2 minutes on high using a paddle attachment)
add the zest from 1 lemon and mix until well incorporated
in a separate bowl mix the flour and salt together then add to the creamed sugar/butter mixture and mix until uniform (if using a mixer, mix on low, stop when the dough sticks together)
press into a disc shape, wrap and refrigerate for 1 hour
meanwhile….
as soon as the can of dulce de leche is ready use tongs to get it out of the water and immediately place it in the fridge
once the dough is chilled, preheat the oven to 350F
roll the dough out to about 1/8″ (I have little space and did it in 3 parts) and cut into hearts using a floured cookie cutter
bake for 6-8 minutes or until BARELY beginning to brown (the smallest hint at the bottom edges of the cookie) then remove and place on a wire rack or cutting board
gather up the pieces left over and rework them into a ball and roll the dough out- you are only supposed to do this once, I did it three times with no adverse effects
after the cookies and the dulce de leche are cooled open the can and spoon small amounts onto the backside of a cookie and sandwich it with the backside of another cookie then dip the whole thing (both sides) into a bowl of powdered sugar. repeat until done, package, and deliver!